One of the best parts about living in Jacksonville, FL is the variety of food. From casual comfortable settings to fine dining, our list of the best restaurants in Jacksonville has it all.
The Best Restaurants in Jacksonville
*This list is an accumulation of suggestions from many military spouses from our Facebook page.
A. The Beaches Area
Jacksonville (Jax Beach) Area
Atlantic/Neptune Beach Area
Ponte Vedra Beach Area
B. St Augustine Area
C. Downtown Jacksonville
D. Riverside/Avondale Area
E. San Marco Area
F. Southside
G. Baymeadows/Phillips HWY
H. St. Johns Town Center Area
Fast and Casual Restaurants at St. Johns Town Center Area
I. Mandarin Area
J. Orange Park Area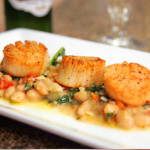 To find more fun things to do and military friendly businesses, read our on and off base reviews near NAS Jacksonville!