Fort Benning and Columbus, Ga have a ton fun things to do around base, however sometimes you just want to get out of town. Atlanta is just a short drive from Fort Benning and we have put together a list of ideas for a short day trip to Atlanta.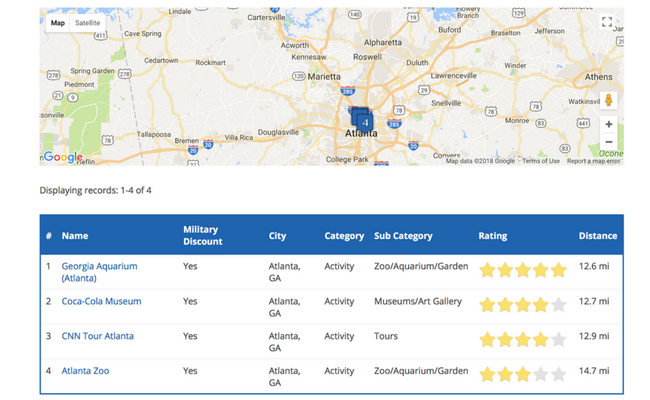 "Great day trip from fort Benning! The aquarium has great exhibits for all ages as well as a dolphin and sea lion show. Active military is free on Mondays, but family members pay. We recommend the annual family pass if you plan on going 2-3 times a year. There is a cafeteria style restaurant with a variety of healthy options. Highly recommend with kids!" Review Provided by Megita61
"We enjoyed this unique tour of cnn headquarters in downtown Atlanta. A good day trip from fort Benning with a discount offered to the active duty member. You get an up close look into several news rooms and learn about the technology required for such a large operation. Strollers are not allowed on the tour so being a baby carrier if the child can't walk. There are many stairs and a large escalator to begin the tour. A family favorite! Grab lunch in the food court before hand!" Review Provided by Megita61
"This zoo was expensive and not impressive for the price. There were not as many exhibits as expected and it just seemed small. All the way animal encounters we're an additional cost and we're very expensive. We recommend visiting the Columbus public library and checking out an watching the zoo dvd. You get a free family zoo pass when you return the DVD! Definitely a money saver. I prefer the aquarium to the zoo!" Review Provided by Megita61
"The Coca-Cola tour in Atlanta is a must do day trip from fort Benning! We loved the history of cocoa cola and learned a lot of new things about the company. The tasting room was our favorite at the end of the tour. We also received a complimentary glass coke bottle at the end. Good thing to do on a hot day in Atlanta to get out of the sun!!" Review Provided by Megita61
On your way to Atlanta, make sure to stop by The Rock Ranch in Rock, Georgia. You won't be disappointed!
"The rock ranch is an outdoor ranch that holds events for families. Owned by chik fila founders so chik fila is sold on property. Really fun day trip for families with kids. About an hour from North Columbus Georgia. They hold themed weekend events during fall and winter and offer a military discount. We attended a Halloween party and enjoyed the pumpkin patch, corn maze, kiddy town, train ride, and watching a pumpkin launch! A unique putting for fall! They also hold Christmas events! Check online for tickets in advance to save some money." Review Provided by Megita61
Have fun on these day trip ideas! For more information about Fort Benning, start exploring these fun things to do in Columbus near Fort Benning.
Also, check out our summary base information page for Fort Benning with everything you need to know about Fort Benning.