By Danielle Keech
What's the biggest part of a PCS? Finding a new home. Whether you're looking to buy or rent, finding a home that you want to live in for the next few years is stressful.
Military Town Advisor understands this. And to help military families relocate with greater ease and less stress, they created an outlet where families can share their knowledge. By searching for your next duty station, you can see what your military community thinks about areas, neighborhoods, restaurants, schools, and more through their reviews. Just be sure to do the next family a favor and leave your own reviews!
Camp Lejeune is a particularly difficult area to get to know remotely. When you look on the map, you'll see a handful of bases within a very small region surrounded by a what seems endless number of towns. To help you narrow your search and learn which area is right for you, let's take a look at a few neighborhoods that the military community gave five stars on Military Town Advisor.
Neighborhoods with 5-Star Reviews near Camp Lejeune, North Carolina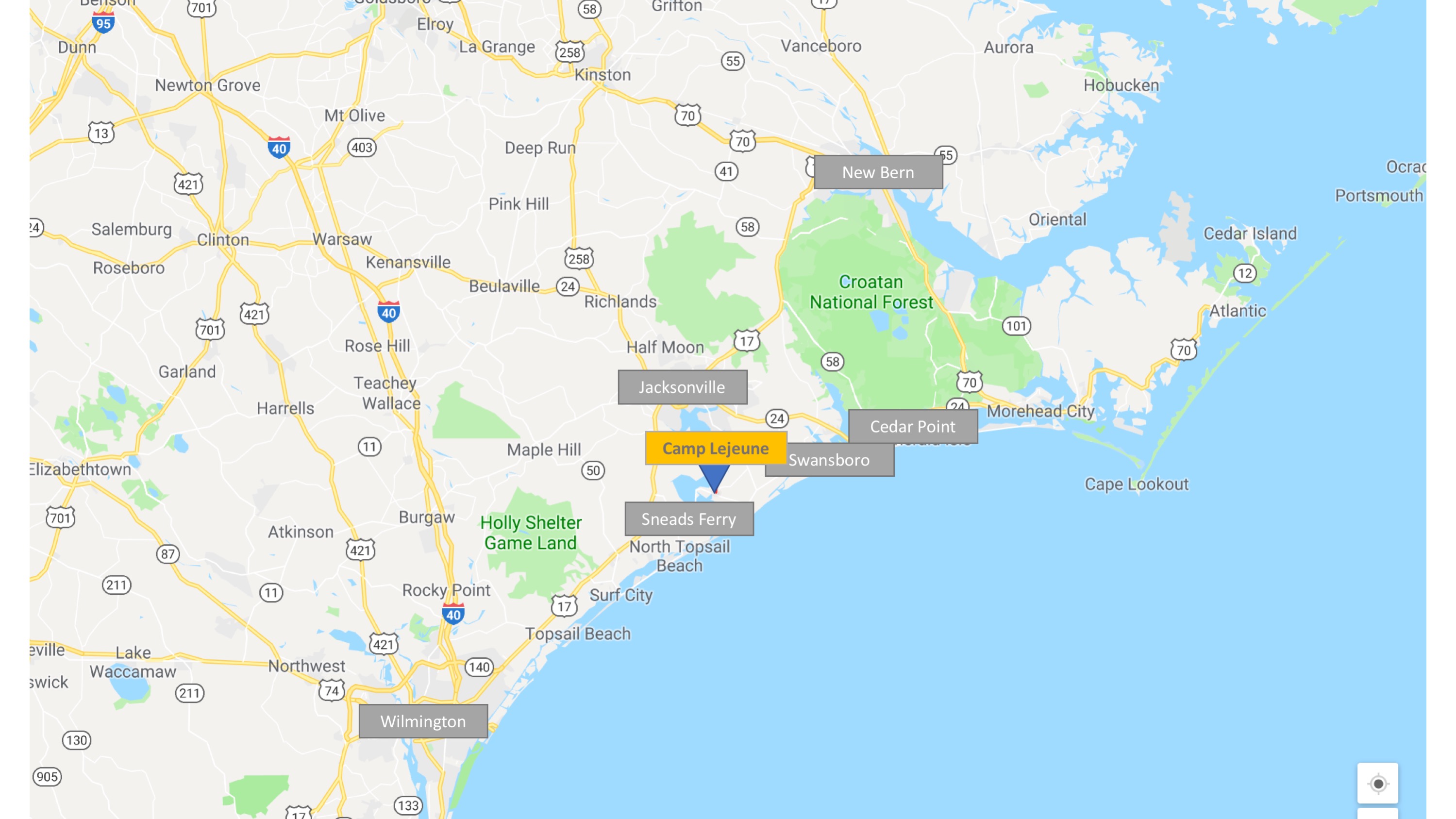 1)
Cedar Point
Cedar Point is located about an hour from Camp Lejeune and is a great place to enjoy a day out on the water, camp, hike, or fish. It's an area to consider if you're getting stationed at Camp Lejeune or MCAS Cherry Point.
Marsh Harbour - Even though it's about an hour from Camp Lejeune, Marsh Harbour is a place you'll love to come home to.
One reviewer shares: "Beautiful neighborhood with friendly and caring neighbors. Children play freely and safely in a true "it takes a village" community. Neighbors look out for each other and the children. Homes are well maintained and pride of the neighborhood is very evident. An absolutely amazing place live and raise a family."
2)
Jacksonville
Jacksonville is one of the more popular places military families choose to live. There is more to do here than many of the surrounding small towns. Here you'll find your familiar chain restaurants and stores, fun activities, and evening entertainment.
Country Club Estates - Country Club Estates is a friendly community close to both base and town. It's located near the Jacksonville Country Club and might be the perfect option for your family of avid golfers.
Check out this review: "Close proximity to town and within five miles to base. But you'll feel like you are in the country living here. There are wooded lots with full grown trees. The neighbors here are sweet and kind would do anything to help."
Williamsburg Plantation - Williamsburg Plantation is a great military community and could be exactly what you're looking for near Camp Lejeune!
See what this reviewer had to say: "Fantastic neighborhood to raise children. There was no shortage of children and families to mingle with! Nice sized homes with sidewalks and large size yards. Convenient access to stores and driving to both bases."
West River - West River is a quiet neighborhood in the country. If you're looking for a calm place to call home, this neighborhood is it.
"We owned a home in the West River subdivision in Southwest Jacksonville, NC while stationed at both Camp Lejeune and New River Air Station. It was a lovely quiet neighborhood."
Visit MilitaryByOwner's Jacksonville city page for available homes for rent or sale in Jacksonville, NC.
3)
New Bern
New Bern has a wide variety of things to do. Here you can learn about some of our nation's history, appreciate the arts, explore the outdoors, or enjoy the entertainment downtown New Bern has to offer.
Evans Mill - Evans Mill is located in the Creekside Elementary school zone. The neighborhood consists of custom built homes situated on large lots, perfect for your family and dogs to run around.
As this review describes, "Spacious semi-private upscale neighborhood tucked up against the Croatan forest at the end of Old Airport Road behind the Carolina Colours Subdivision (located one mile south of Creekside Elementary School and ten miles north of MCAS Cherry Point). Ideally located only ten minutes to downtown New Bern or MCAS Cherry point back gate. Average lot size is 1.0 acre. The neighborhood features a large grass common area with covered picnic pavilion and grills, playground, and a baseball backstop. Pet friendly!"
4)
Sneads Ferry
Sneads Ferry is a little fishing town less than thirty minutes from Camp Lejeune and a great option if you want to live closer to base. Much like the surrounding towns, Sneads Ferry is a good place to enjoy the water sports and activities you love.
The Landing at Mill Creek - The Landing at Mill Creek is a family-friendly neighborhood featuring a pond and running trails.
"We loved living in The Landing at Mill Creek. It was a very safe and social neighborhood. Kids played outside and rode bikes around the loop. The common area behind the houses on the inner circle was great for practicing batting or playing football. Large enough to feel like you have a park in your backyard! Homes in the front circle are well built and are one-story, open concept homes. Back patios are screened and very large. The homes are designed for efficiency and have lots of storage. I had several kitchen cabinets that were empty because the pantry is so large!"
5)
Swansboro
While Swansboro is about an hour from Camp Lejeune, it's only a few minutes from the beach! Because of its proximity to the water, Swansboro is a prime place to take advantage of the outdoor activities you love. It's also a great area to explore little knick-knack and antique stores. And while you're out, don't forget to have a meal at the Icehouse Waterfront Restaurant!
Halls Creek North - Halls Creek North, in Swansboro, is a very social community and not far from the beach.
This review gives more details: "We absolutely LOVE Swansboro area and our neighborhood is lovely. Lots of kids, a fun bunco group, sidewalks, and close to Hammocks Beach State Park as well as the beach. The elementary school here is great and I know several teachers as well as the principal. Commute is about 20 to 30 minutes."
Deer Park - Deer Park is a sought-after neighborhood with a community center, soccer fields, park, gym, sidewalks, and great yards.
Close to downtown Swansboro which has quaint shops, restaurants and views of the river. A 10 to 15 minute drive and you are at Emerald Isle.
River Reach - River Reach is a quiet, peaceful community and might be perfect for your family.
"River Reach is a quiet and established waterfront community with friendly neighbors. Lots are spacious with trees and beautiful homes that are well maintained. Some houses are on the water with water access. Not much traffic through the neighborhood so it's a nice neighborhood to walk the dog or go for a jog. Many homeowners have been living there for a long time.
The community has a dock, boat launch, a fishing pier, and a bath house as well as access to the White Oak River. You can fish, kayak, paddle board or launch a smaller boat, like a skiff, easily.
The historic downtown area is on the water too and a couple of minutes away by car. It's fun to walk around and enjoy all the shops and people. The community is always hosting something fun year round. I see why it's called 'the friendly city by the sea.' There are a lot of dedicated locals and transplants from all over that fell in love with the small town vibe. Great spot to retire or raise a family and meet fun people!"
Fall in love with one of these neighborhoods and ready to take your househunt to the next level?
Find properties near Camp Lejeune that you're interested in on MilitaryByOwner.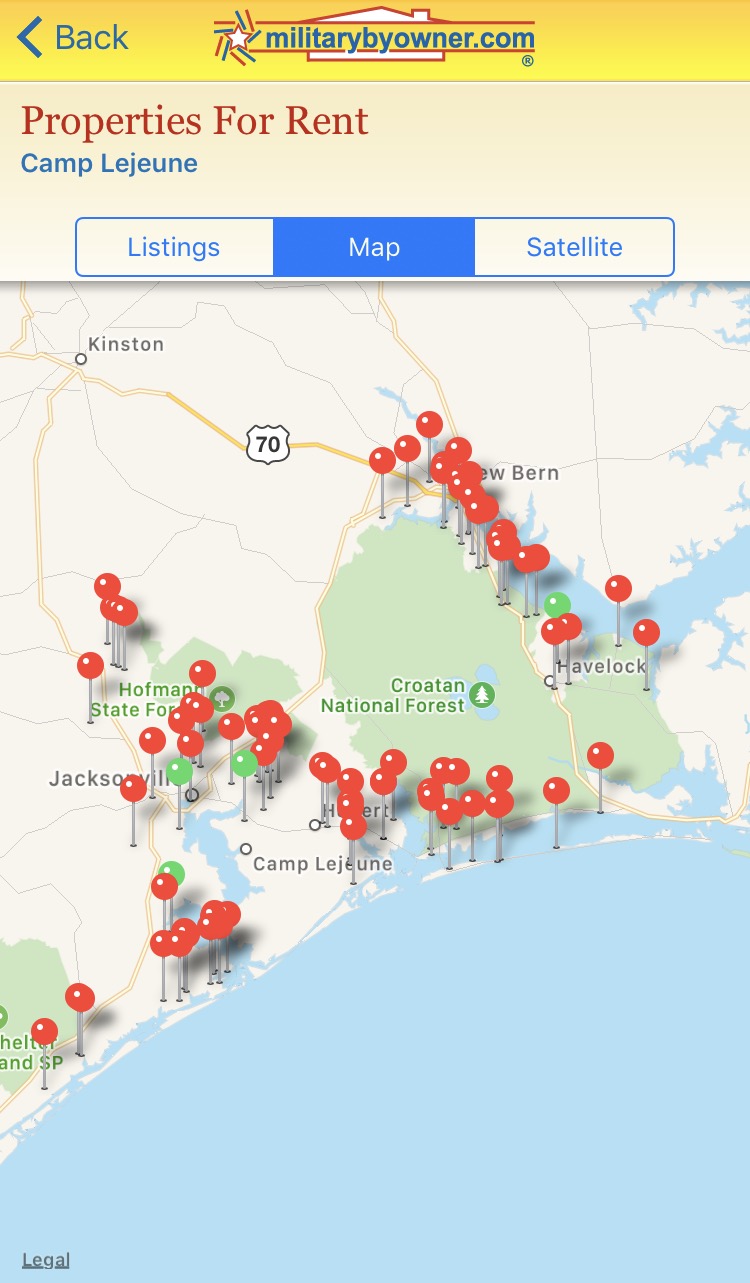 And as always, don't forget to thank your fellow military families for their reviews on Military Town Advisor by leaving your own review!