Sunny skies, family-friendly neighborhood, jet noise signaling the sounds of freedom. These traits mix with a generous helping of North Carolina charm at Marine Corps Air Station Cherry Point.
Home to the 2nd Marine Aircraft Wing, MCAS Cherry Point supports the missions of the II Marine Expeditionary Force. Encompassing over 29,000 acres, an important feature of the installation is an expansive four-point runway system. This quad of lengthy landing strips provides a remarkable resource for aviation training and support. With an assignment to MCAS Cherry Point, you'll be joining an integral part of the initiatives of the global war on terrorism.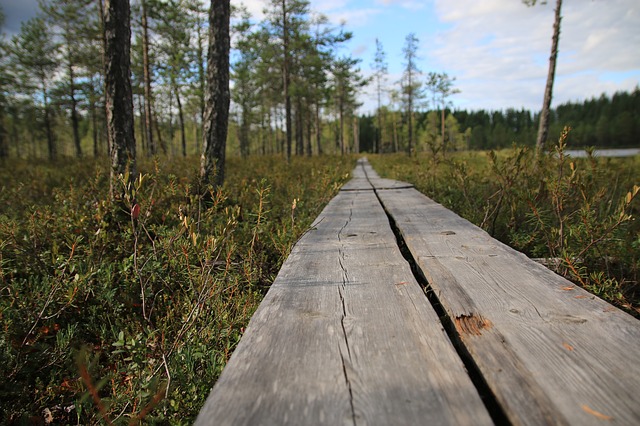 Housing on MCAS Cherry Point
If base housing interests you, the units at MCAS Cherry Point are privatized with Atlantic Marine Corps Communities. The yards have pleasing landscaping and the neighborhoods are overwhelmingly safe and friendly. Organized by pay grade, the names of the neighborhoods are:
E-1 to E-5:
Nugent Cove

Binder Oaks

Lawson Village

Slocum Village
E-6 to E-9:
Presidents Cove, Grants Landing

Grants Landing SNCO Capeharts

Nugent Cove SNCO Enclave
Officer:
Grants Landing Capeharts

Grants Landing 2-Story
Do pack your patience when preparing to PCS to MCAS Cherry Point, as each housing area has a waitlist for availability. With no DoD schools on base, students attend schools within the Craven County public school district.
Living Off Base
Emerald Isle
Imagine waking up every morning with an ocean view outside of your window. Collecting sea shells and building sand castles could quickly become a favorite after-school activity for your kiddos. Going for a daily walk along the edge of the surf would melt away any stress.
With MCAS Cherry Point, North Carolina only 30 miles away, the dream of living by the beach at Emerald Isle could be a realistic choice for your military family.
As this Military Town Advisor review states, "We live in Emerald Isle and we love it. Easy commute and peace when you get home. White Oak Elementary is the best and the rest of the schools have good reputations."
Havelock
If you're looking for a brief commute to MCAS Cherry Point, you'll find the city of Havelock, North Carolina, appealing. Edging the installation, Havelock is "as close to base as you can get without living in base housing."
Nearly everyone in Havelock has a connection to the military. When hunting for a house near MCAS Cherry Point, keep positive reviews from military families in mind, such as this commentary on two popular Havelock neighborhoods:
"I moved from Upstate NY not really knowing anything about the area. I only knew I needed to be close to MCAS Cherry Point. Havelock turned out to be a great area. We have 2 teens that had to adjust to new schools and I feel they did well. The people are welcoming. Stonebridge is a wonderful subdivision in Havelock and is located about 5 minutes from base."
"We love MacDonald Downs. It is a quiet neighborhood right outside of the back gate. Our kids play outside with the neighbor kids and we have never had any problems. Lots of people run/walk in our neighborhood for exercise. We are close to the Elementary and Middle schools."
"MacDonald Downs/Village Green: We moved here from overseas not knowing anyone. Within a day or two I knew most of my neighbors. The neighborhood is very kid and pet friendly. We have a small park in the middle of the neighborhood. We get together and hang out all of the time. It's very peaceful, not much traffic, safe for kids to ride bikes and walk around. Very close to the schools that are fantastic with bus transportation to and from school. Only 3-4 minutes from the back gate to the base."
New Bern
A third option for your MCAS Cherry Point assignment is finding a place to live in New Bern, North Carolina. Travel around 20 miles North of MCAS Cherry Point and you'll land in the second oldest city in the Tar Heel State.
Intriguing tales from history abound in New Bern as you stroll through the historic downtown district. For pop culture fans, the city of New Bern is known as the birthplace of Pepsi Cola and the setting for the Nicholas Sparks bestseller The Notebook. Sip on a favorite bubbly beverage and write your own love story about military life in the Neuse River city of New Bern. Subdivision reviews include:
"Spacious semi-private upscale neighborhood tucked up against the Croatan forest at the end of Old Airport Road behind the Carolina Colours subdivision (located one mile South of Creekside Elementary and 10 miles North of MCAS Cherry Point). Ideally located. Only 10 minutes to downtown New Bern or MCAS Cherry Point back gate. Average lots size is 1.0 acre. Feature a large grass common area with covered picnic pavillion and grills, playground, and a baseball backstop. Pet friendly!"
Neighborhood near New Bern High School
"This area is quiet and set back from the main drag yet still close to shopping areas and restaurants and only a few miles from downtown historic New Bern. Within walking distance of New Bern High School. I use to walk the track or take the dog for a walk around the school to get some energy out. On game nights it can be loud as you are close enough to hear the announcements from the PA, but we never had an issue with that. It can also be more congested before and after school hours, but traffic seemed to clear pretty quick. Area is far enough from base that you have a good mix of civilian as well as military residents."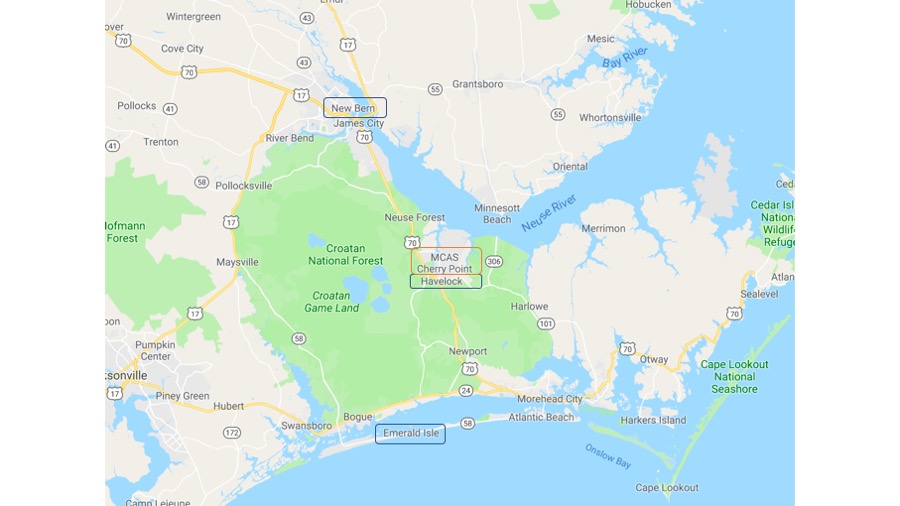 Military families in the MCAS Cherry Point region seem to be quite satisfied with the quality of the schools nearby. Barden Elementary and Gurganus Elementary stand out as favorites in Havelock, while Brinson Memorial Elementary and Creekside Elementary are popular in New Bern. Additionally White Oak Elementary of Cape Carteret and Newport Elementary of Newport are also highly favored. The schools in this area are well maintained and the talented staff go above and beyond to help each student reach success.
No matter if venturing towards the water or if spending time on the back nine, you'll find an abundance of things to see and do near MCAS Cherry Point. An upcoming military move to this North Carolina assignment will have your family making good friends, having good times and taking pleasure in the many amenities of this Crystal Coast locale.
By Mary Ann Eckberg with MilitaryByOwner.com