[This is Part 3 in a series about places to live near in Hampton Roads, Virginia.]
House hunting in the military is always stressful and the first question we ask ourselves is "Where Should I Live?"
Whether you are stationed at Norfolk Naval Base (NOB), Portsmouth Naval Hospital, NAS Oceana, or Portsmouth Shipyards, there are a lot of fun areas to visit while living in Hampton Roads. If you are PCSing to Hampton Roads soon, you might want to check out these different areas when house hunting. Lots of military families live near these great landmarks.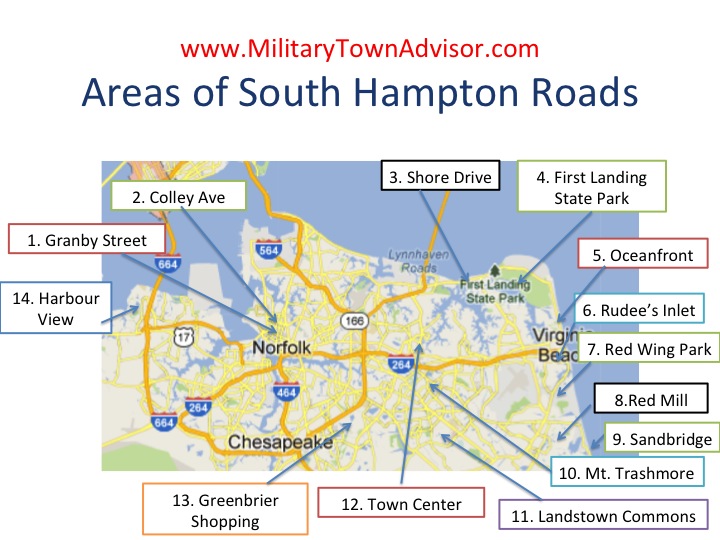 Find Off Base Housing in Virginia Beach:
Granby Street in Norfolk, VA
Colley Avenue & 21st Street in Norfolk, VA
Shore Drive Area in Virginia Beach, VA
First Landing State Park in Virginia Beach, VA
#5 Virginia Beach Oceanfront
#6 Rudee's Inlet near Virginia Beach, VA
Red Wing Park near Virginia Beach, VA
Red Mill Shopping Center in Virginia Beach, VA
Sandbridge Beach in Virginia Beach, VA
Mt. Trashmore in Virginia Beach, VA
Landstown Commons Shopping Center in Virginia Beach, VA
Town Center in Virginia Beach, VA
Greenbrier Shopping Center in Chesapeake, VA
Harbour View in Suffolk, VA
When searching for military homes, look at off base housing in Virginia Beach:
#5 Virginia Beach Oceanfront
Virginia Beach, VA
The Virginia Beach Oceanfront is known for it's long beach and grand boardwalk with walking and biking lanes. Restaurants and hotels line the boardwalk and make it a great place to spend the day in the sun. The Oceanfront is especialy nice when you need a place to escape the sun for bathroom breaks, food or another cocktail. This area is very touristy so it can be very crowded and overpriced. The Oceanfront is a combination between 'new and hip' and 'old and trashy'. You can tell the city is trying to revamp the Oceanfront and make it a true vacation spot for out-of-towners. If you would like to escape the tourists, but still stay on the oceanfront side of Virginia Beach, I recommend the North side of the Oceanfront (Further north from where the boardwalk ends) and South of Virginia Beach on Damn Neck Base. These are spots that the locals hang out, but you won' t have the amenities of bathrooms and restaurants.
My Experience: When I first moved to Virginia Beach, I lived a mile off the Oceanfront and we LOVED it, however we didn't have kids yet and always rode out bikes to the Boardwalk and ate and drank. We enjoyed our active lifestyle, but it soon came to an end after our first child.
Nearby Neighborhoods: I definitely recommend the area if you like to be active. Shadowlawn, Salt Marsh Point, and Old Beach are great neighborhoods to check out. Once again, this area is very popular due to it's proximity to the water and it pulls from good school districts making house prices very expensive, but worth it.
Read reviews about The Oceanfront!
#6 Rudee's Inlet
Virginia Beach, VA
Rudee's Inlet is just south of the Virginia Beach Boardwalk. It's the body of water that lets boats in and out of the Oceanfront. Rudee's Inlet has gorgeous views, a marina, and great restaurants. My favorite restaruant was Big Sam's (a huge locals spot), Rudee on the Inlet Cafe (with swinging tables..cool!), Rockefellers and Rave's Burger Bar. You also can catch some sight seeing tours, parasailing and fishing tours out of Rudee's Inlet. Shadowlawn neighborhood backs up to Rudee's Inlet.
Read reviews about Rudee's Inlet!
NOTE: No matter where you chose to live in Hampton Roads, make sure you think about how the tunnel systems will affect your commute.
(Photo by Navy Spouse Bella B Photography)
(Read Part 2 about #3 Shore Dr and #4 First Landing &
Part 4 about #7 Red Wing Park, #8 Red Mill Commons, and #9 Sandbridge Beach)
What's your favorite restaurant at the Oceanfront?
Additional Resources:
PCSing soon? Download our PCS Guide to Hampton Roads (Norfolk/Virginia Beach Area)