717 General Booth Blvd, Virginia Beach, VA 23451
(757) 385-3474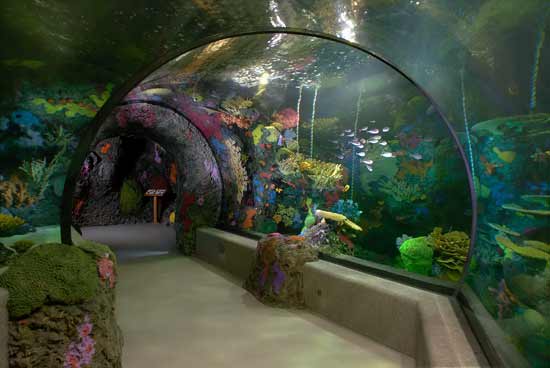 The Virginia Aquarium & Marine Science Center, formerly known as the Virginia Marine Science Museum, is an aquarium and marine science museum located in Virginia Beach, Virginia, just south of Rudee Inlet. If looking for more family friendly activities in the area, the Aquarium is within a mile from Ocean Breeze Water Park.
Our favorite family friendly activities are: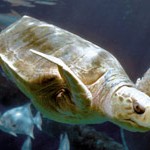 Harbor Seals - They are located outside the aquarium before you enter the building. Watch out for the splash!
Turtles - My 16 month old loved the turtle exhibit. It's inside the building in an open air room. Look carefully, some of the turtles are fake. See if you can find them!
Alligator - There is a tank with 2 large alligators and they don't move very often. Sometimes they will sleep with their mouths open and you can get a great photo op of your child being eaten by the alligator ;)
HUGE sea turtle - The photo on the right is of the huge sea turtle that swims in the sea turtle aquarium otherwise known as the Light Tower Aquarium. The large turtle will surely catch you kids' eye.
Sharks - Ahhhh there's a shark tank! Watch the sharks swim over your head in this full room aquarium. Check out the control room next to the shark tank. It's a control room of a submersible research vessel with hundreds of buttons that don't do anything...brilliant for small children!
Sting Rays - Towards the end of the aquarium, there's a tank full of sting rays. Put your hand in the water and touch them...go on...don't be afraid. Don't forget to use the hand sanitizer afterwards.
Food: I have never eaten at the Aquarium, but we usually can make the ˜loop' in about an hour and a half and be home for lunchtime.
I highly recommend the annual membership. Since most of the aquarium is indoors, it is a great place to take the kids during the winter months. During the warmer months, you can check out the Aviary and look at the fascinating collection of birds. The Aviary is located behind the Marsh Pavilion on Owls Creek. Also, you can enjoy a boat ride through Rudee's Inlet.
Additional Resources for the area:
Find more fun things to do in Virginia Beach