Let's be honest, the best part of a deployment is the day they return home and there's nothing better than having a "Welcome Home" banner flying in front of your home. It makes your service member feel loved, missed, and appreciated. From my personal experience, my husband was a bit overwhelmed when he got home from deployment so he didn't say much, but I know he loved the sign. It also was nice for the neighbors to see it and know how much he had sacrificed for our country.
3 years ago when my husband deployed, I couldn't find an economical sign. Everything I looked at cost over $100 and I wasn't prepared to pay that much for a sign. A few weeks ago, I was contacted by Signs.com and they asked me if I would do a Homecoming Banner Give Away. They wanted me to give an honest opinion so they asked me to order my own sign and give my opinion on the quality of the sign and my experience with designing the sign. So here it is....
My personal opinion of Signs.com
First, I went to the military banner templates to chose a banner. I liked the template that said "Welcome Home Mom", but obviously that wasn't going to work for my husband. ;) Then I realized I could adjust the template and change the words and the colors. It was very easy to change the template. When I received the sign it came in a cardboard cylinder holder and the banner was well protected. The banner is the quality of a high priced sign, but it only cost about $25. I was impressed with the durability and the color brightness. I could tell it would last a long time. All in all, I would highly recommend Signs.com for any type of banner.
Pros: Good quality, durable, bright colors, good packaging
Cons: Limited template selections, however you can edit, upload your own picture, and change the template.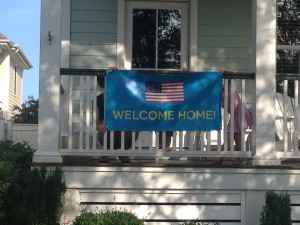 My sign from Signs.com.
If you win, you get to choose your own sign!
You don't have to just use Signs.com just for military banner signs, you can use them for any kind of sign that you need like yard signs or car decals.
Enter to win a FREE Homecoming Banner from Signs.com
THE PRIZE: You will win your own banner from Signs.com. You can choose from a template or customize your own sign. It can either be for a Military Homecoming or for any event you want! Good Luck!
This Contest is OVER.
Congratulations to Marylyn Harris for winning the banner!