Best Biscuit - Callie's Hot Little Biscuit
Anyone with a PCS to the Charleston area in your future? Here is one more reason to be glad for those orders.
Head downtown to one of the new additions on Upper King Street. Callie's Hot Little Biscuit is a biscuit boutique, if you will. The owner, Carrie Morey, of Callie's Charleston Biscuits opened her teeny tiny stand up counter biscuit shop last summer and the reviews are deliciously positive.
My best friend and I spent just one night downtown but managed to visit the shop twice and were thrilled to make the trek from our hotel to Callie's to investigate what all of the biscuit talk was about and weren't disappointed. Although neither of us had previous experience with Callie's Charleston Biscuits, Martha and Oprah both did and were fans.
I wasn't expecting the small (I ordered 3!) size of the biscuit or the many sweet and savory flavors that would be offered. There are seven classics, plus a daily biscuit special. I can testify that the Cheese and Chive, and Cinnamon were amazing, but my preference was the Black Pepper Bacon. Bacon pieces are baked right in the dough. Genius. While we were in there was also a crab cake and sloppy joe biscuit of the day. Carrie is a big proponent of using local ingredients from farms and restaurants and Charleston's food scene continues to boom, so surely she won't run out of options for collaborations.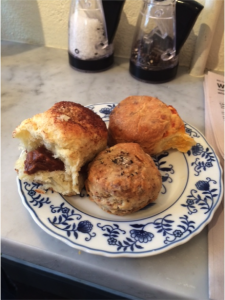 There are various side options such as cheese and flavored whipped butters to accentuate the biscuits. Trust me, you don't need them. Carrie's shop also offers her signature pimento cheese sandwiches and grits in addition to packaged and refrigerated items. My second visit was to pick up a couple of packages of frozen biscuits for my family. I was concerned about the taste translation from her shop to my oven, but they were perfect.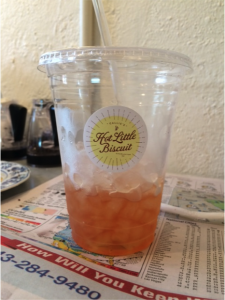 Lastly, do not miss the mint infused sweet tea. I was hankering for the plain old sugary tea Charleston is known for, but this is the only option and I was so glad I tried something new. In fact I tried to wait in line for a refill, but the line was too long. This will be probably the most disappointing part of your visit. I have read the line and wait times can be long. We didn't have that experience but we were in mid-morning, mid-week.
Hominy Grill has been my favorite biscuit stop for years and I was worried by trying Callie's I would be torn as to who had the best biscuit. The good news is that the HLB and Hominy's biscuits are totally different creatures so there is no need to choose. Get them both.
The shop has great location at 476 ½ King Street in the middle of what is the revitalization of Upper King. It sits near the College of Charleston, Music Farm and other up and coming bars and eateries. HLB's fun late night hours reflect the clientele too.
To find more fun things to do, read our on and off base reviews near Charleston AFB!