Hampton Roads is home of the largest Navy Base and has over 16 bases surrounding the area. Below is a list of the Hampton Roads Military Bases along with a map.
If you are PCSing to the area, it's very important to research the area ahead of time and figure out the best place to live. Things to take into consideration are commute time, tunnel system, type of home or neighborhood, school system, and proximity to the beach or bay.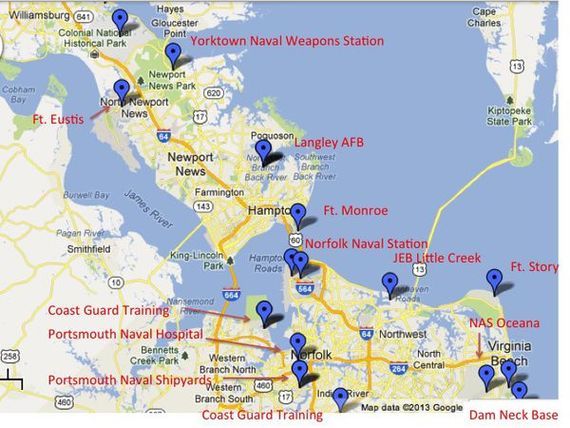 Military Town Advisor has over 100 neighborhood and area reviews for the surrounding area. When searching for military homes for sale or rent, read the reviews to get a better understanding of the surrounding areas to live.
Here's a list of Hampton Roads Military Bases:
To learn more about each base, read our on and off base reviews for the area!
NAVY
Naval Station Norfolk
Naval Air Station Oceana
Naval Medical Center Portsmouth
Norfolk Naval Shipyard
Commander Navy Region Mid-Atlantic
Commander, Naval Surface Force, U.S. Atlantic Fleet
ARMY
Fort Eustis
Fort Monroe
Fort Story
AIR FORCE
MARINE CORPS
U.S. Marine Corps Forces, Atlantic
COAST GUARD
US Coast Guard 5th Atlantic Fleet
U.S. Coast Guard Training Center Yorktown
U.S. Coast Guard Finance Center
U.S. Coast Guard Command & Control Engineering Center
U.S. Coast Guard Air Station Elizabeth City

DOD
NASA Langley Research Center
Joint Forces Staff College
Defense Link
Joint Warfighting Center (JWFC)
->Download our PCS Guide to Hampton Roads