The Hampton Roads area (now starting to be called Coastal Virginia Area) consists of nine independent cities including Chesapeake, Norfolk, Portsmouth, Suffolk, Virginia Beach, Hampton, Newport News, Poquoson, and Williamsburg.
Cities Surrounding Hampton Roads, VA
(Coastal Virginia)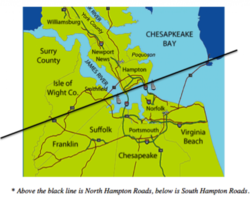 South Hampton Roads
Norfolk

Virginia Beach

Chesapeake

Suffolk

Portsmouth
North Hampton Roads aka "The Peninsula"
Hampton

Newport News

Poquoson/Yorktown

Williamsburg
Things to Know Before Moving To Hampton Roads Area:
The area is called 'Hampton Roads', but it may be referred to as 'Coastal Virginia'. Another term for the area is 'Tidewater', but it encompasses a much larger area including the Eastern Shore.

Housing
Housing prices are very expensive in this area. The further you live out of town, the more square footage you will have for a better price, however your spouse will have a longer commute.Remember a lot of the areas close to the water are expensive and price per square footage is typical for a resort town.Don't judge a book by its cover! Some of the older less updated homes are expensive for a reason, they are located in a great area or a great school district. Take note of where the highways are located and how it will affect your commute.

Be prepared to make sacrifices when choosing a home. Check out our directory of

military friendly REALTORs

.

Military Housing
Military housing is limited in the area, so find out where other military families live so you can be close to other families who can support you during your time here.

Tolls and Tunnels

The City of Portsmouth has implemented electronic tolls when you use the Downtown Tunnel and Midtown Tunnel which connects Portsmouth and Norfolk. These tolls are electronic without toll booths so they either bill you or you can get an EZ Pass. It may add up and affect your commute so take this into consideration. No other tunnel or city has a toll (other than the Chesapeake Bay Bridge which connects Virginia Beach to the Eastern Shore. This is a privately owned 23 mile bridge and it's not surprising it has a toll to pay for itself.)

Whether you are looking to buy or rent, use a realtor to help you navigate the area. No matter where you chose to live in Hampton Roads, make sure you think about how the tunnel systems will affect your commute.

Health Insurance

Tricare Prime vs Standard

– There are a lot of treatment facilities in the area, however there are a lot of active, retired, reservists and their dependents in the area so wait times may be long. Many doctors' offices in the area do not take Tricare Prime due to poor reimbursement rates, but a majority will take Tricare Standard. The decision is yours, however if you have kids or you are pregnant you may want to consider getting Standard so you can choose a doctor in the community to treat you and your family.

Was this information helpful? For more information, download our PCS Guide to Hampton Roads and read on and off base neighborhood reviews.