As a military spouse, I have always found it challenging to find time for myself, especially when it comes to fitting in a good workout. I have never understood why the base gyms do not have some kind of childcare for military families so they can workout. I know they have drop in care at the CDC (sometimes) and some base gyms have a small area where you can keep a baby on the other side of a glass barrier, but come on, that just doesn't allow you to have a good workout without distractions. The majority of military families have children and what better way to let off some steam than hitting the gym, but unfortunately that isn't easy to do so many military families workout at home. The Fitbox365 is a great solution for military families because it's lightweight, simple, fast and mobile which makes it the perfect piece of equipment to use for your workouts at home.
Fitbox365 is the perfect 'at home' system for military families.
The Fitbox365 System includes the Fitbox Fitness 'step box' and a fitness program to keep you on track.
The FitBox365 Fitness Unit provides quick, easy, and effective workouts wherever you go. FitBox365 is a patented one of a kind system, that has clips to allow you to flow from one exercise to another, quickly and easily changing the resistance level by looping the resistance tube around the clip.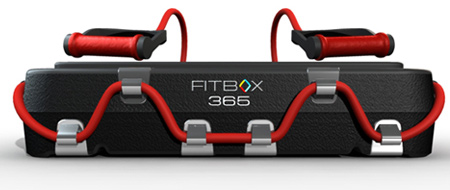 The Online Fitness Training Program is a Cloud based Total Body 365 fitness training program led by our trained and professional fitness instructors. The videos and online program keep you motivated while the Fitbox365 keeps you toned and fit. Check out the video to learn more about how to use the Fitbox365.
Each FitBox365 comes with a DVD, assembly instruction, brochure demonstrating some exercises, one resistance tube, and 24 clips which allows the individual to complete a full body work out, focusing on each muscle group, in an effective and safe way with the FitBox365 and a resistance tube.
My Personal Review for the Fitbox365:
I truly believe FitBox365 is the perfect tool for military families because it's a total gym in a box that you can use at home for a quick and total body workout. Mark Carrier, the founder and CEO of Fitbox365, is also the owner of Fit36 Norfolk. I love working out at Fit36 and we incorporate the Fitbox365 into a lot of our workouts. It's very easy to use and the clips really do allow you to position the band in the appropriate spot to isolate muscles. As I said at the beginning of this blog post, if you can't get to the gym, then you definitely need a Fitbox365 at home!
If this sounds like something you'd like, head over to their website and order your Fitbox365.