Flying Space A
Part 2 (read Part 1)

Personal Tips & Lessons Learned for Flying Space A
1. Be flexible and prepared!
If you don't get on a flight the first day try again the next day! Be prepared to stay overnight in a hotel or drive home and try again the next day. Know hotels around the area you cannot sleep in the Air Mobility Command Passenger Terminals.
2. Utilize Military Amenities!
Most of the AMC Passenger Terminals also have a USO and family rooms or play areas. Use them and thank those USO volunteers!
3. Facebook Passenger Terminal Pages
Like the various Facebook Passenger Terminal Pages for the AMC that you are trying to fly out of and into. They update their photos section with updated flight times, number of seats, and destinations.
Example: Ramstein Air Force AMC Passenger Terminal Facebook Page
4. When flying back to the United States consider flying into several AMC Passenger Terminals in the area you want to get back to.
You can always rent a car and drive to the Terminal where your car is parked.
Example: If you fly out of BWI and you can easily get on a flight back to Andrews AFB, take it! Rent a car at Andrews AFB and drive to get your car at BWI. Remember you just got a free flight to and from Europe!
5. Noise Canceling Headphones are Fantastic!
Most AMC Flights are on cargo type aircrafts that can be loud inside. The crew will provide earplugs, but if you want to listen to music or watch a movie noise cancelling headphones will greatly enhance your ability to do so.
6. Sleeping Bags & Air Mats
Again a lot of AMC Flights are on a cargo type aircraft. You may be sitting in jump seats on the sides of an Air Force C17. Once you are at cruising altitude you will want to be able to lay comfortably on the rough metal floor. We brought self-inflating camping air mats, sleeping bags, and pillows. They were perfect!
Other travelers had thick yoga mats and fleece blankets.
You don't want to be cold and uncomfortable for 8+ hours, especially with kids!
7. Buy the AMC Food Box!
Optional: $4.50/food box will get you 2 drinks, a full sandwich, bag of chips, dessert, a fruit, and a snack item.
100% worth every penny we spent for those $4.50 food boxes!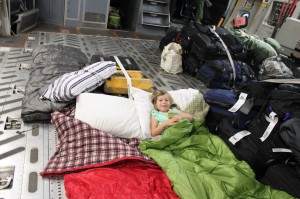 Useful Website: Air Mobility Command
Read more about Jill's Space A Travel to Edelweiss Lodge and Resort in Germany and find things to do in Edelweiss!