As a military spouse and dealing with my husbands crazy schedule, I have learned that we are often pulled in different directions and need to make time for each other. After 8 years of marriage, we have found that a good date night helps us reconnect. Our favorite date nights usually consist of good food and wine paired with great conversation. I have put together a list of the best restaurants in Virginia Beach, especially for a date night.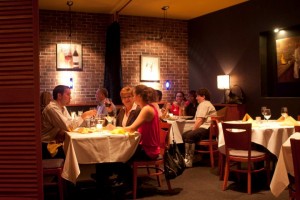 Cobalt Grill
Best Restaurants in Virginia Beach
(these restaurants are in no particular order)
Cobalt Grill - This is my favorite restaurant in all of Virginia Beach because the food is always consistently good and the atmosphere is nice, but not pretentious. My favorite dishes are the surf and turf, salmon, and the spicy beef carpaccio that you grill on a rock at your table. Located off Laskin Road in Hilltop Shopping Center.
Zoe's - Make sure to make a reservation because this restaurant is very small with limited seating. (They have a special table where the chef brings you special drinks and appetizers, ask about it.) I love their steaks! Located near the Virginia Beach Oceanfront off of 19th Street next to the Convention Center.
Ruth's Chris Steakhouse - Best Steak in all of Hampton Roads. Yes it pains me that a chain restaurant is the best, but it's consistently the best. Get the filet, bone in ribeye, or prime rib. Pricey, but you won't be disappointed, I promise! Located in the Town Center of Virginia Beach.
One Fish Two Fish - One of my favorite seafood restaurants in Virginia Beach with beautiful views of Broad Bay/Long Creek. They are a local restaurant that serves fresh, local seafood. They focus on boutique style wines and a great laid back water front atmosphere. You can even pull your boat up to the restaurant to eat. Located off N. Great Neck Road.
Burton's Grill - Is a great spot for lunch and dinner. They have great steak, burgers and other items. Check out their menu. Located on Laskin Road in Hilltop Shopping Center.
Sonoma Wine Bar - This is a great place to lounge and drink a glass of wine. Their wine selection is huge and the atmosphere is romantic. We love to get a 'flight' of wine and the big cheese tray. Their food sounds delicious on the menu, but I've always been a bit disappointed. Stick to the cheese and wine and you won't go wrong! Located in Town Center Virginia Beach.
Coastal Grill This has an older crowd, but the food is delicious and unpretentious. I have consistently had a great meal here. It's a mix between elegant and home-style food. For example, the main dish comes with a buttery sugary butternut squash as a side item. It's so yummy! Located on Great Neck Road.
Steinhilber's - One of the oldest locally owned restaurants in all of Virginia Beach. The atmosphere has an older feel, but the food is amazing. They are known for their fried shrimp, don't even think about ordering beef. Everything seafood is delicious. It's hidden back in a neighborhood off of Thalia Road.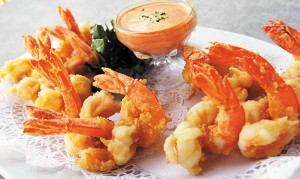 Steinhilber's Shrimp photo from HamptonRoadsMag.com
Catch31 & Salacia at 31st Hilton - Catch 31 is a great place to get fresh fish and eat in a swanky atmosphere. It's located on the Virginia Beach boardwalk so it has gorgeous views of the Atlantic Ocean. They have outdoor fire pits and a cool bar. It is somewhat of a pricey tourist trap so be prepared to spend $12 a martini, but it is really well done. If I had one tourist trap that I would recommend, it would be Catch 31. The atmosphere is really cool and the people are very classy. Salacia is a high end restaurant located inside of Catch 31. They specialize in steak and seafood. It's very pricey and I have read mixed reviews about it. We went one time and I wasn't impressed. I'd rather be in Catch 31 than Salacia.
PF Changs - Even though this is a national chain, I love this restaurant because no one else does gourmet chinese food. The service is good and the food is always great. PF Changs is located in the Virginia Beach Town Center.
Aldo's This locally owned Italian restaurant is known for its great food and romantic atmosphere. This is a locals favorite in Virginia Beach. Located off Laskin Road in the Promenade Shopping Center.
Fire and Vine - This locally owned restaurant features woodfire cuisine including grilled steaks and seafood, rotisserie items, woodfired pizzas and flatbreads. They also feature over 5,000 bottle wine cellar. Located off Laskin Road in the Hilltop Shopping Center.
Tripps - This is a great place for a casual dinner or lunch. This restaurant is not fancy, but has great food. I love their salads, but hear they have amazing desserts. 2 locations in Richmond and Virginia Beach off Independence Blvd near Town Center.
Terrapin - This is the ultimate date night restaurant! Very pricey, very romantic, and a great wine list (make a reservation). They are known for their scallops and use of truffle oil. Located near the Virginia Beach Oceanfront off 3102 Holly Road, Pinewood Square, Suite 514 Virginia Beach, Virginia, 23451. Make sure to map it before you leave because it's a bit hidden.
Melting Pot - A great chain restaurant where you get to cook your own meat fondue style. It's more about the adventure then the quality of food. For dessert you get to dip everything in chocolate which is delicious! Located off Laskin Road in the Hilltop Shopping Center.
Eurasia Cafe and Wine Bar - American cuisine utilizing local products. The food is creative and delicious. I promise you will love everything. Check out their menu. It's located off Laskin Road in Virginia Beach and inside a wine shop.
Eat Bistro - This is a unique place to get away from the usual tourist traps. It's an American bistro with limited seating so call for reservations. Their menu is very good and unique. Check out their menu before calling. Located on the Virginia Beach Oceanfront.
Additional recommended restaurants...
Chesapeake
Geisha- This Japanese Steakhouse has Hibachi and sushi. It's always fun to have the chef entertain you with flying shrimp and veggies on the Habachi grill. Located in Chesapeake at 741 Eden Way North, Chesapeake , VA 23320.
Suffolk/Western Branch area of Chesapeake
Vintage Tavern
Riverstone Chop House
Harpers Table
Looking for more, read our Best Date Night Restaurants in Norfolk and Best Italian Restaurants in Virginia Beach, and Best Chinese Restaurants and Take Out.
I hope you find these "Best Restaurants in Virginia Beach" list to be helpful. Please go and try a restaurant and let us know what you think. Also, if there are some restaurants that are your favorite that are not on our "Best Restaurants in Virginia Beach" list, let us know!
Additional resources for the area: