I have anticipated this post for a while now. I have seen this question pop up on Facebook lots of times and everyone has a great place around the corner from them, however there were a few places that kept getting recommendations over and over again. To me, that means really good Chinese food! Here is the compiled list of best Chinese food in Virginia Beach and surrounding areas.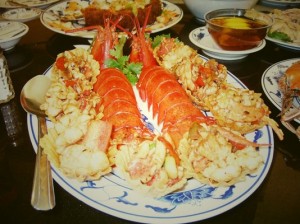 Photo from Jade Villa
(No particular order. All 5 of these restaurants received multiple recommendations.)
#1 Best Chinese Food in Virginia Beach
Jade Villa - Located in Virginia Beach off of Independence across from Pembroke Mall. One military spouse states, "Jade Villa is the most authentic you will find in the area. They even have traditional dim sum on weekends served from carts. Ask for their HK Style chow mein noodles they are authentic and delicious."
#2 Best Chinese Food in Virginia Beach
Judy's Sichuan Cuisine - Located at 328 Contstitution which is around the corner from Michaels and Panera Bread across from Pembroke Mall. Judy's has authentic Sichuan Cuisine and one military spouse said. "Judy's food is to die for."
#3 Best Chinese Food in Virginia Beach
Forbidden Palace (formally Forbidden City) - Located on Virginia Beach Blvd near Sam's Club and Little Neck Road. "Forbidden City is very good. They have table cloths which makes it a nice place for a sit down meal. I love their Peking Duck."
#4 Best Chinese Food in Virginia Beach
Peking City - Located off Great Neck Road near Shore Drive. "One of the few, old school sit-down Chinese restaurants in the areas. It has amazing food all the time. It's our go-to Chinese take out."
#5 Best Chinese Food in Virginia Beach
Imperial Palace - Located in Virginia Beach near Princess Anne Road and Baxter Road near Independence just South of 264. "A very nice sit down Chinese restaurant. We get take out from there, but we usually go for a nice sit down meal."
Others who made the list of best Chinese in Virginia Beach are:
Mei Zhen - near Hilltop Shopping
Chens Garden - off Salem Road - Great for take out
China Dragon - take out near Nimmo Parkway
Ichibans - off of General booth. "It's more hibachi style without the grills at every table. I love their shrimp sauce, I put it on everything."
Chens Wok - off Shore Drive near Little Creek
Geisha - "It is a Japanese/Sushi restaurant in Chesapeake, behind Target off of Greenbrier area, a little pricey but really good!"
Port Arthur - in Newport News
Hong Kong - Chinese restaurant in Williamsburg, a little drive but worth it, especially the sushi train.
Jade Garden - by Dam Neck and General Booth.
Read more...Best Restaurants in Virginia Beach, Best Italian in Virginia Beach, Best Restaurants in Norfolk.
I expect this list to grow, so please leave your favorite Chinese food in Virginia Beach in the comments section.
Additional resources for the area: