One of the toughest parts of moving to a new town is finding good restaurants. The last thing you want to do is get a babysitter and go out for a date night and have a bad experience. Here is a list of the best restaurants in Norfolk for a date night. I promise you won't be disappointed!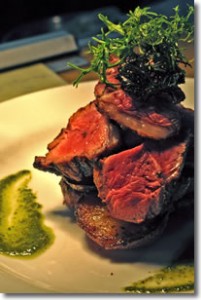 Todd Jurich's Bistro - Located in downtown Norfolk. The name Bistro might throw you because it's nothing like a casual bistro. It's fine dining at its best! Delicious unique dishes. It's a bit expensive so you might want to save it for a special occasion.
The Main - Norfolk's newest Hilton Hotel downtown located on Main Street. There are 3 restaurants in The Main, including Saltine, Varia, and Grain. This hotel is super swanky and a great place to have dinner. Saltine specialized in seafood, while Varia is Italian. The Grain is more casual with a restaurant/bar feel. I highly recommend you check out The Main.
Byrd and Balwin - One of the best steakhouses in Hampton Roads. I am originally from Texas and I love a great steak and this place delivers. It's located in downtown Norfolk inside an old bank building. Check out the old vault which they have turned into a wine cellar. It's a perfect place for a date night.
La Bella in Ghent - Located in Norfolk on 22nd Street near Colley Avenue. Sophisticated Italian food at it's best. Yum!
Bardo- Tapas restaurant located off 21 Street near Ghent and Colley Avenue. Great place to share a meal on a date night! Pretty much everything is delicious here.
Razzo - Delicious Italian food located in the Oceanview area of Norfolk. Look carefully for a red stucco building or you might miss it. Don't be fooled by the outside appearance because it's a perfect place for a date night inside. My favorite dishes are the stuffed eggplant, penne a la vodka, and grilled veggies and roasted garlic appetizer. Find other great Italian restaurants in Virginia Beach.
Press 626 in Ghent - Cafe and Wine Bar located at the south end of Colley Avenue in Norfolk. The restaurant is in an old Colonial house serving American cuisine focusing on local products from local farmers.
Other great options are 219 Bistro and 456 Fish both located in downtown Norfolk.
Read more...Best Restaurants in Virginia Beach, Best Italian in Virginia Beach, Great Chinese Restaurants.
Hungry yet?